IS THERE A DIFFERENCE IN POWDERS?
Yes...KORR only uses quality powders.  Quality powders produce a more durable product with a longer lifetime.   We believe in producing an exceptional product.  Therefore, only the best powder for the best results!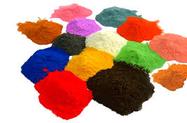 - We offer an array of colors in matte, semi gloss and glossy finishes.
- Colors range from basic black to a variety of textures and specialty colors. 
  There are 1000's to choose from!
- Powders are designed for interior and exterior surfaces.
- They also come in super durable finishes.
Projects are only limited to the IMAGINATION!
The powder coating process is unlimited in the products you can coat.  You can finish  ANYTHING that is metal!